The forthcoming
Prestel publication
'
Tadao Ando 1994-2009
'is looking back on the last 15 years of the architect Tadao Andos work. The publication is put together by Francesco Dal Co, the
Casabella
editor. He has already edited the last large scale Tadao Ando publication, the in 1998 published 'Tadao Ando: Complete Works'. In this sense he knows Ando and his work very well.
This is then also the experience the publication translates. Everything here is neatly documented in chronological order. The publication mainly work with photographs and overview drawings. Hoever there are a few detail drawings and every now and then also a sketch or an atmospheric drawing.
Ando today is a star architect. He is one of the very big names among Frank Gehry, Foster and Partner or Nouvel. However his position as a Japanese architect is special. His designs have this very specific style that is unique in a different sense than his western colleagues.
Back in Japan he once was one of a few radical young architects, as he describes it in the essay in the introduction, who wanted to do things differently. And obviously they managed to succeed. His raw usage of concrete was in the 90is a very clear architectural language that was only beginning to develop with other practices.
The very first Ando building I experienced was the conference centre in Weihl, par tof the Vitra Design Museum. It is one of Ando's very early Western project. And it is special, the grey concrete, the strong lines and the bare knobs of the shuttering as sort of print marks. For an early year architectural student back then a high light.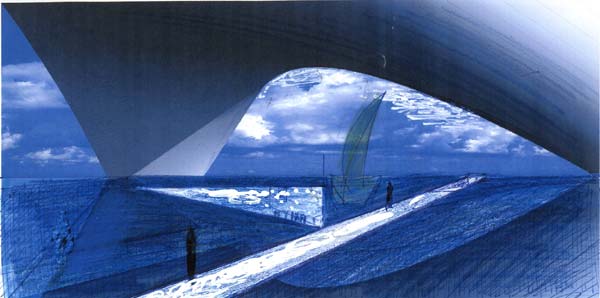 Image taken from the
architect-studio blog
/ Sketch of the Abu Dhabi Maritime Museum.
Much is still the same in his work. The result still has this very specific strength and a very subtile presence. There is a variation of materials, even wooden structures as for examples in his Kashimo-Mura Community Centre. But the strong volumes and cubatures are still dominant a known from his Abu Dhabi Maritime Museum (This is the one with the sailing boat entering underneath, see above).
The favorites however are the very small structures, for housing in mainly very urban settings. This for example the 4 x 4 house in Kobe with the best view onto the Bridge spanning the water arm. Or the Kanamori House in Nihonbashi.
The absolut highlight however is the Penthouse in Manhatten, an unbilt project designed 1996. It sits on the roof of a 1920s Manhattan Tower. The penthouse is a glas box sor to f just dumped on the skyscraper. There is a second glas box piercing the tower about three thirds up at an angle entering one facade and exiting through the corner the other facade.
It is a think monograph with about 568 pages an extensive addendum and introduction essays by Francesco dal Co and Tadao Ando. A book not only for fans, definitely documenting a piece architecture history already.
Image taken from the
Esperanzache
/ Night view from the water of the 4x4 house.
Co, F.D., 2010.
Tadao Ando 1994-2009
,
Prestel
.